CD Release Spectacular! Saturday, November 29th, 2014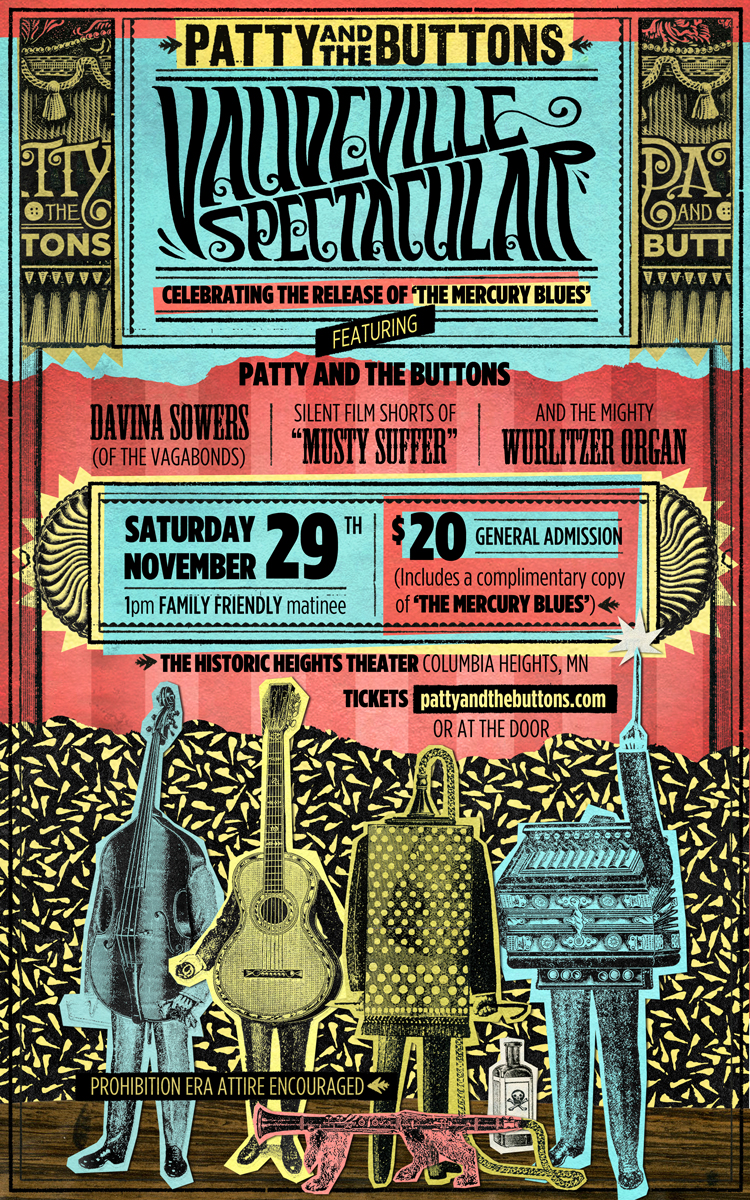 Patty and The Buttons are celebrating the release of their second album "The Mercury Blues" at the historic Heights Theater built in 1926.  The show will be an riotous vaudeville style presentation featuring Patty and The Buttons, a very special appearance by Davina (of The Vagabonds) with Zack Lozier, silent film shorts from "Musty Suffer", the Mighty Wurlitzer pipe organ and more!  Guests are highly encouraged to attend in 1920's period attire and to leave their phones at home.  ALL attendees will also receive a FREE copy of Patty and The Buttons new album "The Mercury Blues"
Saturday November 29th, 2014
1pm FAMILY FRIENDLY matinee
12:30pm Doors
The Heights Theater
3951 Central Ave NE
Columbia Heights, MN
$20 General Admission
(Includes a complimentary physical copy of "The Mercury Blues")
TICKETS AVAILABLE NOW:  http://pattyandthebuttons.brownpapertickets.com/
Preview tracks from our new disc "The Mercury Blues" on SoundCloud: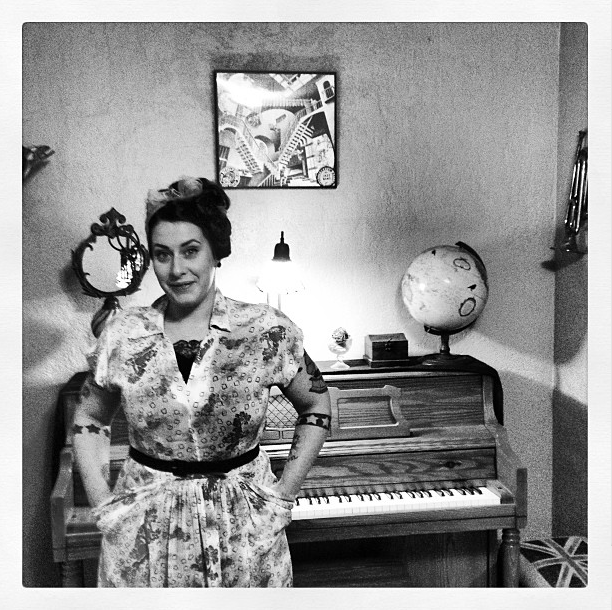 Davina Sowers (http://davinaandthevagabonds.com/)
Davina Sowers hit the Midwest scene in February 2005 and she hasn't looked back since. It didn't take her long after moving to Minnesota from Key West, FL to start making a name for herself. With great vocals and piano, she commands attention on stage and leaves everyone smiling. Davina has been performing since the age of 5, with the support of an extremely musical family. Sowers, a classically-trained pianist, has years of experience in piano performance. She and her band made a big splash at Duluth's Bayfront Blues Festival in 2006 to2008, having the highest sales in CDs all three years. She has been called the "hardestworking blues woman in frigid Minnesota." "Two things remain consistent in all her shows: her throaty, but cushiony voice, which has a sort of hardmattress comfort to it that's part Bonnie Raitt, part Etta James and a little Amy Winehouse; and her band's rollicking New Orleans flavor, driven home by dueling horn players and a bayouthick standup bass." (CHRIS RIEMENSCHNEIDER, Star Tribune) Davina has already shared the stage with Little Feat, Buddy Guy, Elvin Bishop, The Lamont Cranston Band, The Blues Brothers, Joe Bonamassa, Irma Thomas and James Hunter, among others, at venues such as House of Blues in Atlantic City, NJ and the Bayfront Blues Festival in Duluth, MN.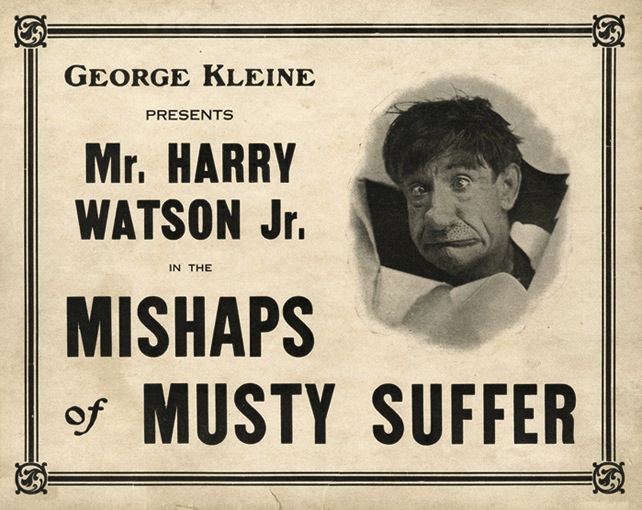 Musty Suffer (Silent Film Shorts)
Originally released in 1916, these silent film shorts feature the mishaps and misfortunes of tittle character "Musty Suffer".  Played by Vaudeville star Harry Watson Jr., these pictures are some of the earliest examples of comedic film.  "Musty" finds himself in a number of bizarre, uncomfortable and downright surreal situations.  These films have been almost entirely forgotten in the archives of the library of congress, until now! They will be ably accompanied at the Heights by the Mighty WCCO Wurlitzer, played by Mr. Harvey Gustafson.
The current organ began its life in 1929 as the WCCO studio organ, back in the days when WCCO had studios located in the old Nicollet hotel at Washington and Hennepin Ave in downtown Minneapolis. It was then a 3 manual instrument with 12 ranks of pipes. Then in the 1960's it was sold to a private collector and eventually purchased by the Land O Lakes Theatre Organ Society in 1998. Soon after, a deal was struck with the management of the Heights Theater to install the organ, thus making the Heights the first movie theater to have a functioning pipe organ since the Downtown Minneapolis Radio City Theater closed its doors in 1958. The organ currently has 16 sets of pipes (known as ranks) and also boasts a glockspiel, xylophone, chimes, piano, and marimba, as well as an assortment of rhythm percussions and original theater pipe organ sound effects such as train whistle, bell, birds, and so forth. The section which currently plays is housed in the former dressing room on the right side of the auditorium. The organ's voices include Tuba, Trumpet, Post horn (the loudest stop) strings clarinet, and a variety of other organ voices to fill out the ensemble.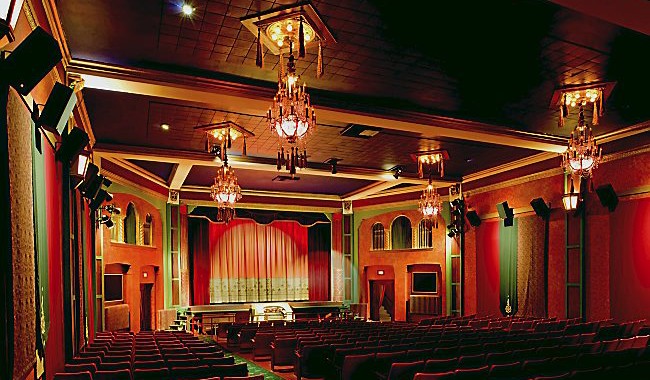 The Heights Theater
The Heights Theatre is located in Columbia Heights, Minnesota, a Northeast Minneapolis suburb. The theatre was originally constructed in 1926 by Gluek Brewery heir Arthur Gluek as a prohibition real estate venture. Built in the Beaux Arts style of the last century, the Heights Theatre building was a simple neighborhood movie house showcasing local talent in stage plays and "High Class Amateur Vaudeville Acts." The Heights has survived at least three fires, one bombing and "The Big Blow of 1949" when a Fridley tornado twisted the tower sign. Today the theater has been restored to its original glory. A scarlet motorized Grande drape covers the proscenium stage and gilded grills conceal the organ's pipework. Antique chandeliers are suspended from the ceiling restored with 2600 Egyptian lead crystals. Hand-painted reproduction Edison Mazda bulbs in four colors on separate circuits allow a multitude of effects from 152 lights above four hundred seats. An orchestra pit was discovered under the floor where the mighty Wurlitzer Theater Organ now rises for Friday and Saturday night concerts.