Concert with Dakota Dave Hull and special guest Butch Thompson
We could not be more pleased to be presenting two American music legends at the Jackson Street Roundhouse on Friday, October 2nd.  Arrive early and check out the house collection of historic train cars, engines and memorabilia in the 100 year old venue, still functioning as a roundhouse today.  The night will open with a solo set of ragtime guitar from Dakota Dave Hull.  Then, we'll be playing a program of mostly traditional jazz along side Butch Thompson on clarinet.  Don't worry, Dakota Dave will be joining the band too! This will be a seated concert event, although if your feet start moving, we won't stop them!  Here is the poster and the press release: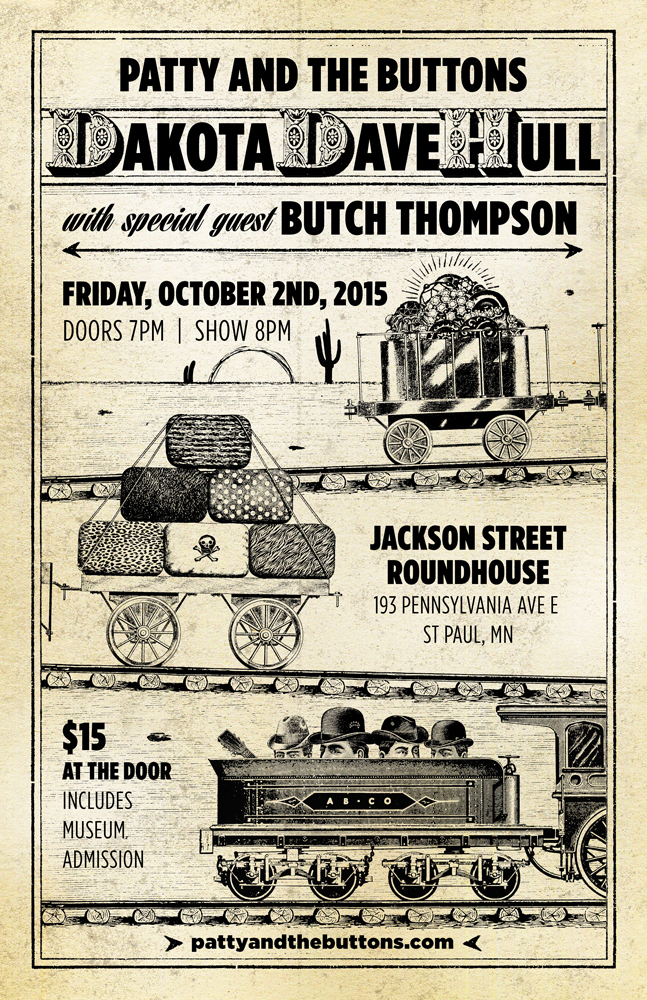 Patty and The Buttons
Dakota Dave Hull
with special guest Butch Thompson
Friday, October 2nd, 2015
Doors 7pm, Show 8pm
Jackson Street Roundhouse
193 Pennsylvania Ave E, St Paul, MN
$15 at the door, includes museum admission
http://pattyandthebuttons.com
Hot jazz purveyors Patty and The Buttons will be partnering with acoustic guitar legend Dakota Dave Hull to present an evening of early american music at the Jackson Street Roundhouse. Also joining the Buttons on clarinet is Prairie Home Companion alumnus and traditional jazz great Butch Thompson. Arrive early to the event to take in the house collection at the Minnesota Transportation museum. This is a seated concert event.
About Dakota Dave Hull: 
Hailed by everyone from Dave Van Ronk to Doc Watson, from the Washington Post to Downbeat, Dakota Dave Hull's guitar style spans a wide musical geography to create an infectious, uniquely personal blend of jazz, ragtime, folk, blues, Western swing, and vintage pop. Dakota Dave is a restlessly curious, adventurous traveler along the broad highway of America's music. In his playing the masters speak, but in a vocabulary that is Dave's alone: alternatively mirthful and moving, always melodic.
A gifted composer as well as a strikingly original interpreter of older tunes, Dave calls what he does "classic American guitar." Folk legend Van Ronk called Dave "one of the best guitarists in the world."
Most of all, Dakota Dave's music is great fun. As Douglas Green (Ranger Doug of Riders in the Sky) puts it, "There is an imp within Dave Hull that always expresses itself on the fretboard; a witty, intelligent yet respectful imp who frolics in his music, an imp Dakota Dave neither fights nor lets take control, but simply absorbs into the heart of his style."
More information at: http://dakotadavehull.com
About Butch Thompson:

In a career spanning over 45 years, pianist and clarinetist Butch Thompson has earned a world-wide reputation as a traditional jazz and ragtime master. He tours widely as a soloist or at the helm of any of his several ensembles, including his well-known Butch Thompson Trio, his eight-piece Jazz Originals band, the Butch Thompson Big Three, or his unique blues duo with fingerstyle guitarist Pat Donohue.
He has performed with many symphony orchestras, including the Hartford Symphony, the St. Louis Symphony, the Erie Philharmonic, the Minnesota Orchestra, and the Cairo (Egypt) Symphony.
Widely known for his 12-year stint as house pianist on public radio's A Prairie Home Companion, where the Butch Thompson Trio was the house band, he continues on the show as a frequent guest.
More information at: http://www.butchthompson.com